【RESERVATION FOR A ROMANTIC NIGHT OF SEA FIREWORKS, 2021 PENGHU SEA FIREWORKS FESTIVAL PROJECT IS IN PROGRESS!】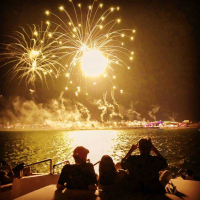 Miss the beauty of summer fireworks, miss the salty sea breeze blowing in the sea.
Jump on the boat and leave the most beautiful memories of 2021!
The most popular Penghu International Sea Fireworks Festival🎆 will be launched on 4/22.
Let's sail from Penghu Argo Marina and enjoy the romantic night view at sea.
And create an ever-lasting memory of the fireworks blossoming in front of our eyes.
♦ Activity time: 4/22-6/28 every Monday & Thursday 20:00-22:00 (2hr)
♦ Non-members $2,500/person; $18,000 for charter boat with lunch box and drinks on board
⛵Sailboat using BAVARIA 37′ or BENETEAU 38′
🌟Members enjoy special rates, please contact us
🌟
Remarks:
1. This is the price for a single person, the boat cannot be specified for a group trip
2. Minimum number of 4 persons
3. Boat trip is limited to Magong only
4. Meal box is a standard meal, no customization is possible
5. Priority will be given to those who have completed the payment.